A good beginner skateboard is important if you want a fun and safe experience. But even though it might seem difficult to choose the right skateboard as a beginner, it is really not that hard.
Here is an article that gives you an easy overview of all the parts, and shows you how to choose the perfect skateboard if you are a beginner.
Choose Good Quality – Not (always) Low Price
Safety First
First and foremost, a low-quality beginner skateboard can be dangerous. If the skateboard breaks mid-air, or while skating at high speed, it could be extremely dangerous both for you and others.
Never gamble with your safety, always choose good quality
Often you can buy complete beginner skateboards in your local toy store, or on the internet. We do not recommend buying a cheap "no-name" preassembled skateboards, as the quality is to low.
Proud American brands like Zoo York, or reputable European brands like Jart are a good choice if you want a good preassembled beginner skateboard in very high quality (at an affordable price). We strongly recommend them as we think they make the best complete skateboards for beginners. You can find them in any boardshop.
Having Fun is Almost As Important As Safety
A high-quality skateboard gives you a way better first experience. It is much more fun to learn how to skate if the skateboard is not heavy, slow, and even unsafe. Lower quality Skateboards have ruined the first experience with skateboarding way too many times.
Having fun simply makes skateboarding both more enjoyable and way easier to learn. So again, focus on quality in order to have more fun from the beginning.
What To Choose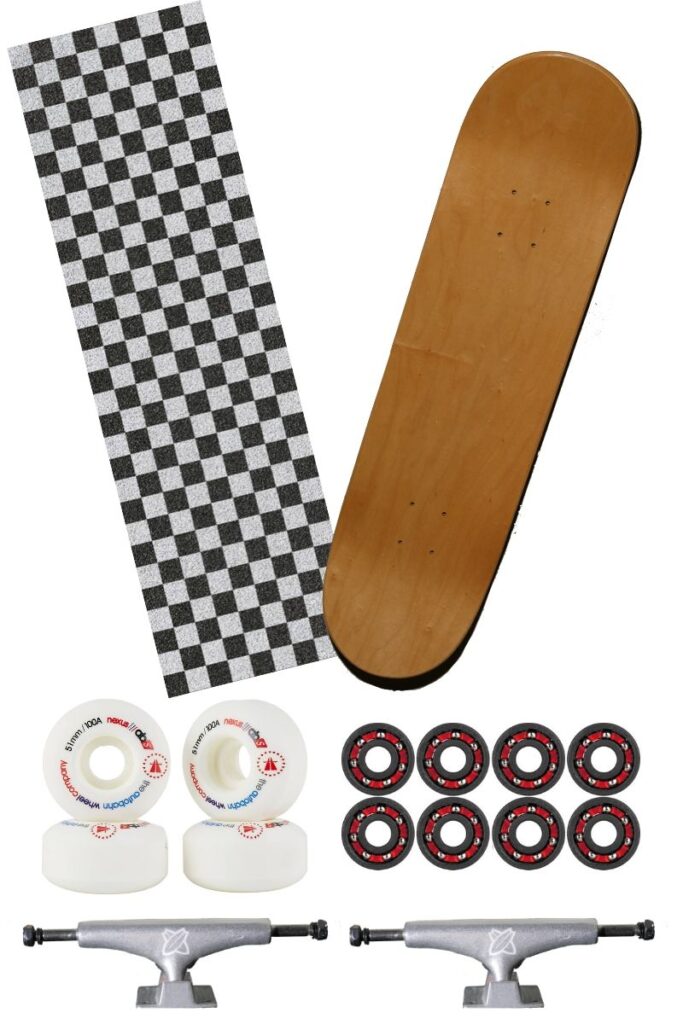 As we wrote above you can buy good skateboards for beginners preassembled by trusted brands. But in many ways, it is way better to handpick the parts yourself.
By handpicking each part of the skateboard, it is possible to get exactly what you want
But in order to make the right choices, it is important to understand the different parts that make up a complete skateboard.
It might seem a bit confusing, but knowing the basic components gets you a long way.
A skateboard consists of the following components:
Skateboard deck: A small skateboard flicks faster, while a bigger board is better for vert, pools, and transitions. Often kids skates 7,5, while bigger skaters ride 7.75-8,25". You can read more about skateboard decks here.
Griptape: Griptape is the sandpaper on top of the skateboard. This will help you get a good grip on the board.
Trucks: Skateboard trucks connect the skateboard deck with the wheels. They also decide how you turn – the looser the trucks, the easier you turn.
wheels: Often wheels are between 50 – 55 mm., as this provides good speed and grip. Another element the hardness of the wheel. The hardness of the wheel is measured in durometer- a good all-around hardness is 100A.
Bearings: Bearings are the small metal rings that are installed between the wheel and the truck. These things decide how fast you can go on your skateboard. The fastness is measured in ABEC- we recommend ABEC 5 as a good all-round solution for the beginner.
We hope this guide can help you chose the perfect skateboard. Skateboarding is one of the best things in this world, but it can be ruined if you get a bad start. We hope you get a good and safe start, so you can enjoy skateboarding for many years to come.