Indoor skateparks are the best alternative to skating in the streets. You are safe from nasty weather, and you have the possibility to skate both verts, and all types of street skating.
The only downside is that you have to pay a small fee, and you have to share it with other skaters. That is why bigger is better.
The bigger the skatepark, the more options you have.
Unit 23
Unit 23 Skatepark opened in 2002 and is considered the biggest indoor skatepark in the UK. It's located in Dumbarton, Scotland.
The size of the skatepark is a whopping 5.200 m2. Filled with ramps, ledges, and pools spread over three halls. You can find obstacles designed for everybody from the beginner to the pro skater.
It's possible to book your personal coach for the weekends. The private coaching sessions are held during closing hours, so you don't have to worry about other skaters.
The main goal is to teach others in a fun and laid-back manner
Unit 23 also has a big café that serves burgers, toast, and nachos, etc, and a fitness studio where it's possible to train or do yoga.
Area 51 Skatepark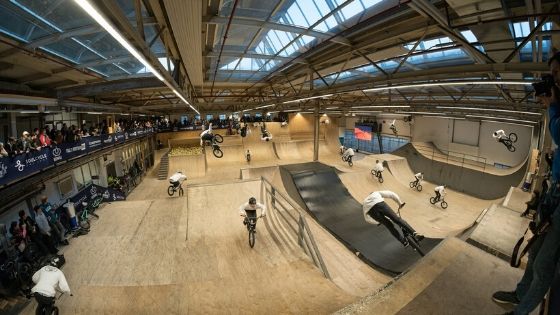 Area 51 is one of Europe's biggest indoor skateparks with a total skate area of 3.000 m2. It originally opened in 2002 and is located in Eindhoven, Holland
The skatepark is mainly for street skaters, but it is also home to the famous MU Bowl.
Mu Bowl is considered to be the biggest wooden bowl in Europe
The Skatepark also has a large mini ramp and everything for the street skaters.
The skatepark also has a skate school, which isn't open to the public for privacy concerns. The school has a lot of beginner-friendly obstacles, that can be moved. The school offers both beginner courses and workshops.
Area 51 has its own skate shop and a very nice bar. But what makes Area 51 unrivaled is that it has a concert hall. The Hall has room enough for 250 people and offers skate related events, such as concerts.
SKATEHALLE BERLIN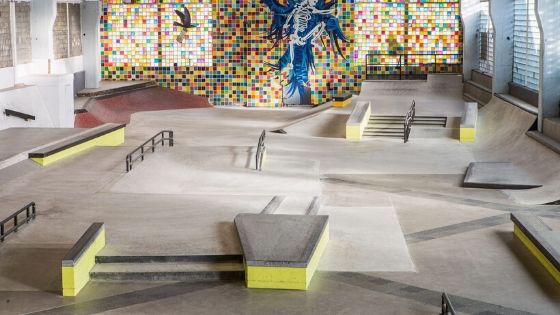 Skatehalle Berlin is located in the heart of Friedrichshain-Kreuzberg, Berlin. It has a skate area of 6.000 m2 and is widely considered as one of the best skateparks, not only in Europe but in the world.
The Skatepark opened in 2004, with only a little wooden bowl, but soon grew bigger and better.
Today the skatepark has 800 m2 of street area, 400 m2 filled with mini ramps, and the biggest indoor vert in Europe.
Skatehalle Berlin is also home to an outdoor cinema, a climbing cone, and the Cassiopeia Music Club.
It's possible to attend the different skate schools and courses held at the skatepark. Besides regular skate schools, Skatehalle Berlin uses skateboarding as a tool to break down social and cultural barriers through different events.
Skatepark De Lyon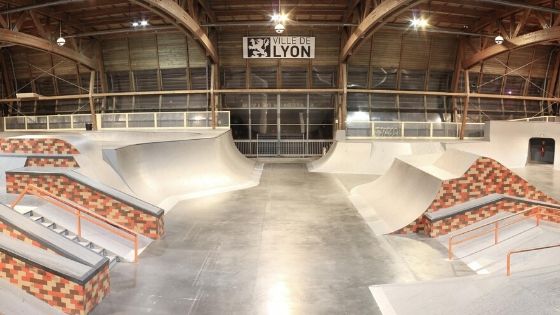 Skatepark De Lyon offers 1500 m2 of skateable heaven. It officially opened in 2000 and has become one of the gems of Europe.
The skatepark is home to both skateboarding, BMX, Rollerblading, and scooters. But each segment has different hours each weekday, so it's not as hectic as it might seem.
The skatepark also offers courses for all, both experienced and beginners. The teachers are some of the best skaters in the area, but the sessions are both very educational and fun.
Ramp 1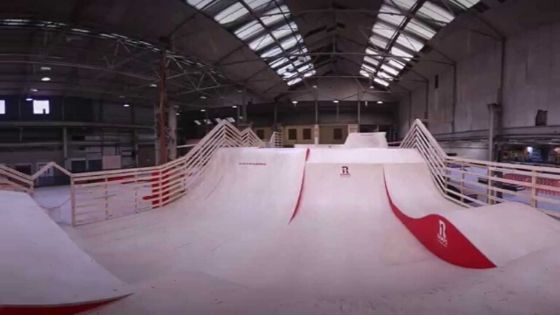 Ramp 1 is a skatepark based in Warrington, Cheshire, and has a massive 4650 m2 of shreddable skate turf.
The Skatepark has a designated area for beginners with small rails and small banks. You can also skate very small mini ramps. For the experienced skater, Ramp 1 offers a large street area, a big bowl, and a skateable tunnel.
Ramp 1 offers courses for kids, teenagers, and adults of all skill levels. It is even possible to get a 1 on 1 session with an instructor.
The Skatepark has a very nice café called The Grind Café.
It provides all sorts of food, free WIFI and several TVs that transmit live from the skatepark.
Ramp 1 also has a skate shop, that sells skate accessories and does repairs. It's even possible to buy the latest and greatest in skate fashion. It is truly one of the best skateparks in Europe.
That's our list containing the best indoor skateparks in Europe. We hope you enjoyed it, and if you have any questions, we will be happy to answer any of your questions in the comment section below