So you have your prized beauty, you are able to complete and show off many unbelievable tricks on it as well, but have you ever considered that your skateboard might need some tender loving care as well?
We guessed not, therefore we decided to break out the scrubbing brushes and just about every other cleaning supply in our collective cupboards and share with you exactly how you clean a skateboard.
What you'll need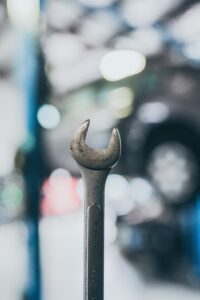 First off you are going to want to assemble all of the items you will need in order to achieve the task of cleaning your very own skateboard, these include your skateboard, a wrench and wrench bits, paper towels, a bowl, a dishcloth, window cleaner, and cooking oil. Why oil, you may find yourself wondering, well poor wheel alignment or wheels that consistently jam can not only increase the likelihood of injury but can also cause you to veer off course and therefore impacting your performance at that moment.
How to Clean the Skateboard
The Wheels
Hence we begin at the beginning, it is time to grab your wrench and remove the bolts that fasten the wheels to the bench so that you can take the wheels off of the skateboard. Now on to a slightly trickier task, housed inside the wheel are a little contraption known as bearings, you need to remove these from your wheels with a wrench as well.
Once you have managed to remove all of the bearings from the wheels, gather all the wheels together into a heap on one side of your work area and the bearings in another so that way you can be sure not to lose any of the pieces.
Now grab your bowl and fill it with enough cooking oil for the bearings to be dipped in comfortably, it does not matter what type of cooking oil you use so long as it's oil and not a chemical cleaner or agent such as WD-40, also make sure to avoid water as water will cause the bearings to rust.
Now slowly but surely place the bearings inside the cooking oil bowl so that they can soak up the oil for a short amount of time. Moving on, after the bearings have finished being soaked in oil, they are removed from the bowl and dried with a paper towel. Do not just use the paper towel to remove the excess oil, check to make sure that you also get remove of any sand, grime or general dirt that may be lurking within the bearings.
Moving on, place all of the bearings back into the wheels and then place the wheels back onto the skateboard. If possible, place washers on the ends and frontends of the skateboards and check if the posts of your skateboard need any wiping down with your cloth.
The Trucks and the Kingpin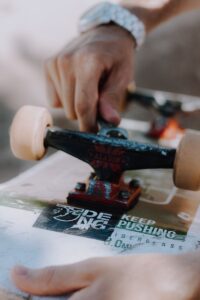 Moving on to the major territory, it's time to evaluate if the kingpin of your skateboard has been adjusted correctly, this large screw affects the general direction of your skateboard. If the kingpin is not tight enough then it will wobble continually underneath you as you move, If you are new to skateboarding then may we suggest making your screw slightly tighter than you may want to as this will give you a better grip while out on the ramps.
Be certain that all the nuts and bolts holding the parts of your skateboard are well fastened, if not grab your wrench and tighten them like a mad dog. Once you've done this you may be wanting to take your new wheels out for a spin, however, the upper piece has yet to be washed and therefore you are going to have to hold your horses for just a little bit longer.
The Skateboard Deck
Spray the upper deck of your skateboard with window cleaner, you can do this rather liberally might I add, now move on to grab a toothbrush or cloth and go to town rubbing the window cleaner into the board. The idea is to remove every single ounce of dirt that can be seen off of the deck of your skateboard, hopefully, it will look the exact same way as it did in the shops all of those years ago
Now that you have rubbed the vast majority of the window cleaner into the deck of your skateboard, check for any pools of extra window cleaner festering and remove this was a cloth or towel, once your board has completely tried you are well on your way back to entertaining the locals with your much-beloved skateboarding tricks and tips.
Cleaning your sporting equipment will not only result in your performance reaching a much higher peak than it does without one, exercising regularly whether through running or dancing to hiking and weightlifting really does make a difference and finally don' stop skating. All that is left to ask is when are you going to go skateboarding?