If you don't know anything about skateboarding, and you are wondering how much it costs to get started, the answer is: "it depends…." Do you want the latest and greatest, or do you want the bare minimum at a cheap price? Let us help you.
It rarely costs more than 200 Dollars to begin skateboarding. The skateboard itself costs between 100 – 200 dollars, depending on the brand, materials, and design. The possibilities are endless, so let us guide you.
It might seem a little confusing at first, but do not worry, we have written this article to help you figure out just how much money it takes to begin skateboarding. And we can already reveal that it isn't that expensive if you just know a little about the different options out there. We will show you where to buy, what to buy, and how to buy the best skateboards at a good price. 
Where Can You Buy Quality Skateboard Equipment?
Your Local Skate shop
If there is a rule in skateboarding, it is that you ALWAYS buy your skateboard gear from your local Boardshop. The skateboard ecosystem is rather fragile, and running a skate shop has proven to be very hard – not many physical shops thrive in this day and age.
Always support your local supplier by buying your skateboard equipment from them
Not only can you get your skateboard right away if you buy it from a physical skate shop, but you can also get good advice, a nice cup of coffee, and you get the possibility to get acquainted with all the other local skaters in your neighborhood. Often the local skate shop ends up being a second home for many skateboarders.
Online Skate Shop
If you do not have a physical Skate shop in your city (or if the owner is a creepy, money-hungry sociopath), you can always order from the internet. As stated above, this method of buying skateboards does not involve personal guidance nor the possibility to support your local skateboard ecosystem.
But buying online also has some advantages. Most online Skate shops have fast shipping, good return policies, and lower prices than physical stores. A lot of them even have free shipping if you buy for more than 100 USD.
So if you don't mind waiting for a package to show up at your doorstep, buying online can be a fast and reliable experience. But if you go for the lowest prices, especially on bigger sites like Amazon and eBay, beware of frauds. If something seems too good to be true, it often is.
The price of Preassembled Skateboards
It is possible to buy extremely cheap skateboards in nearly all bigger toy stores, in Home Depot and Target, even IKEA is now selling skateboards. But be aware of the cheap boards from "non-skateboard manufactures".
The quality is always very poor and riding one of these can be upright dangerous. It also often ruins your first real experience with skateboarding, as these skateboards don't offer much speed, flexibility or "pop", which are all essential elements in skateboarding.
But many trusted brands make preassembled boards, in really good quality. But these complete skateboards are almost always best suited for beginners. Often the more seasoned skateboarder will have certain preferences that this option does not allow, this could be a certain wheel hardness or truck size. But again, these skateboards are a solid option for the beginner skateboarder.
A really good complete skateboard (from a trusted brand) cost from 100 – 200 USD. We believe that a strong American brand is Zoo York, while the proudest European Brand must be Jart. You can buy completes from both here.
The Cost of Building your own Skateboard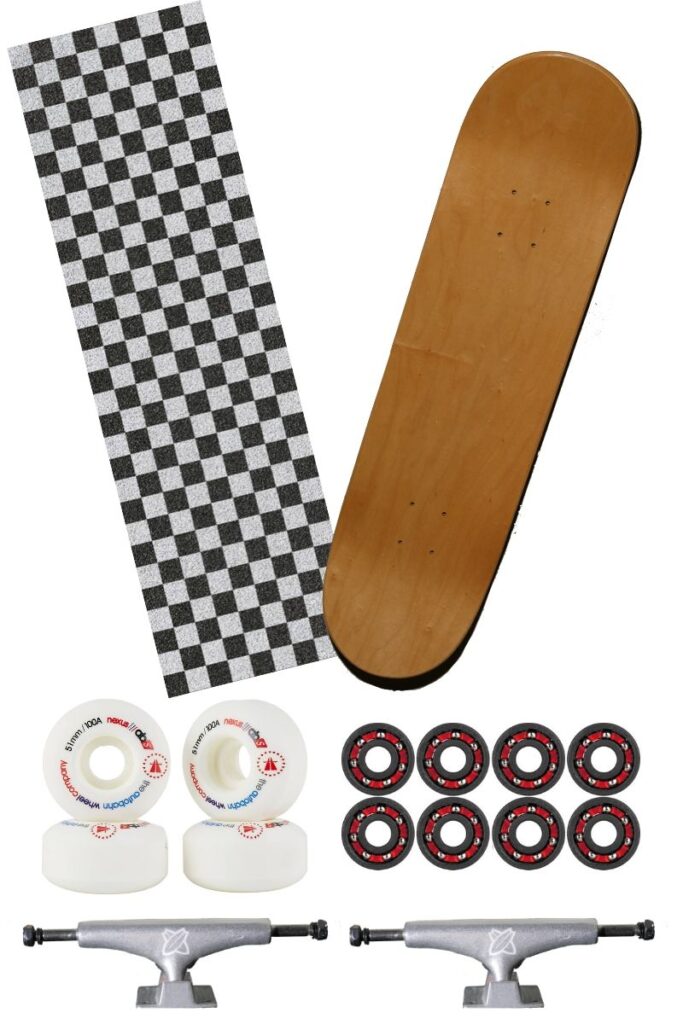 If you build your own skateboard the price often a little higher, as the components are made from better materials and come from trusted brands. The price for a custom made skateboard varies from 150 – 250 USD, depending on the specifications.
A skateboard consists of the following elements:
Skateboard Deck
Skateboard Truck
Skateboard Wheels
Skateboard Bearings
Skateboard Griptape
Bolts and Nuts
You can read more in our article Skateboards For Beginners.
How much does a Skateboard Deck Cost?
Again it all depends on quality, but we focus on the skateboard decks that meet the minimum quality requirements. That is skateboard decks that are made from 7 layers of compressed maple (preferably Canadian maple).
A good blank skateboard deck is by far the cheapest option. It cost from 39 USD, and the price hardly ever surpasses 50 USD. Obviously, the only real difference between a blank Skateboard deck and a branded skateboard deck is lack of graphics and colors.
Branded Boards costs from 49 USD and upwards. They are more expensive because of the visual design and actual paint job, but also because of the higher quality control, custom dimensions, and the general love and support for specific brands.
Again, we highly motivate our readers to support all the local shops out there. If you can get a skate shop deck from your local board shop, we highly recommend it. Shop decks cost from 49 USD, and they always derive from the same factories as the traditional branded skateboard decks. If you want to learn more, you can buy them here.
How much does Skateboard Trucks Cost?
You can get really good Skateboard trucks from 40 USD (for a pair). But you can also more expensive trucks depending on the design and/or materials. Some trucks are made from forged titanium, while some are made with plain Aluminium.
Always remember that the length of the truck matches the width of your skateboard deck. It is important that the size of the trucks matches the skateboard deck.
How much does Skateboard Wheels Cost?
It is possible to find good skateboard wheels from 25 USD, but normally they cost from 30 USD and above. Again this depends on the size of the wheels, the hardness, design, and materials. Normally wheels are 50 – 55 mm wide and have a hardness of 100A durometer.
How much does Skateboard Bearings Cost?
Bearings are the small metal rings that make your wheels spin. You can buy them for as low as 10 USD, but it is possible to buy them for much much more depending on the design and material, etc. Some might claim that the bearings are not that important, but we beg to differ. We do feel that good bearings are important, but that does not mean that they have to be expensive.
Buy from trusted brands, or take a chance you might be pleasantly surprised.
How much does Skateboard Griptape Cost?
Good griptape is important, and it must be carefully selected. You can buy good griptape from 5 USD, but often the griptape is free if you buy all the parts at your local skate shop. Sometimes griptape costs a little more, but this is always because of added color design, and not because of material selection or physical design.
How much does Skateboard Bolts and Nuts Cost?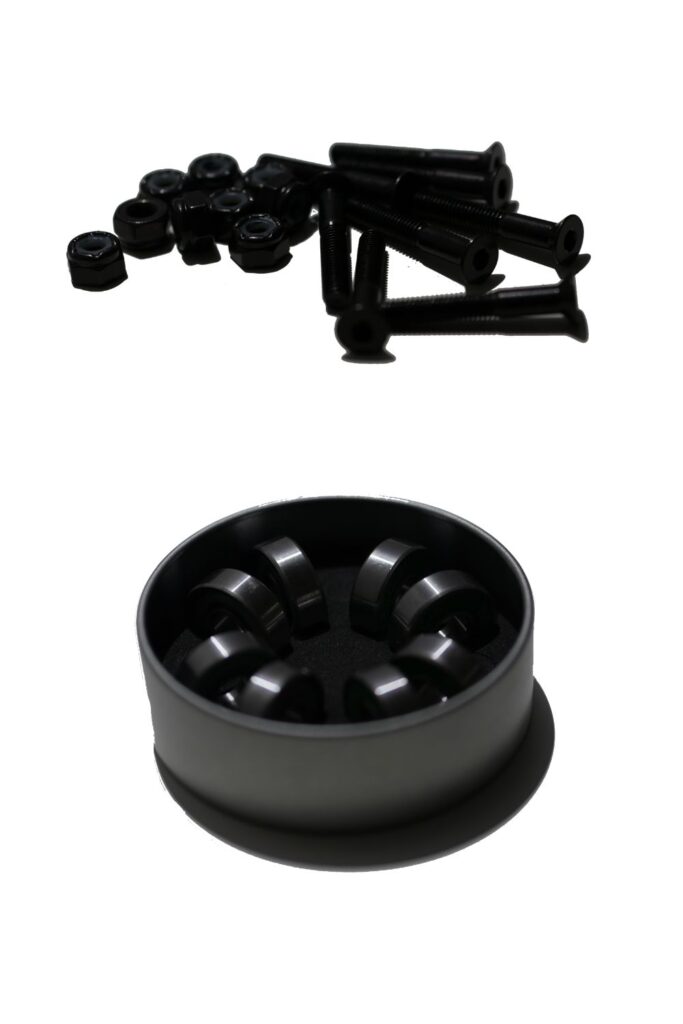 Skateboard Bolts and Nuts cost between 2 – 5 USD. They are basically all the same except for the color and the size. Colored bolts might be handy for showing what is the nose and what is the tail of the skateboard.
Make sure that the bolt fit for your trucks. Longer bolts are made for trucks with riser, but usually 1" will be just fine.
How much does Skateboard Accessories Cost?
Skate Tool
A skate tool costs between 10 – 20 USD depending on brand and features. It is possible to assemble a skateboard with a screwdriver and a wrench, but a skate tool is really handy, and we guarantee that you will not regret buying one.
Riser Pads
Risers lift the trucks from the board, preventing wheel bite, bringing your board to a full stop. Descent riser pads for skateboarding cost no more than 2 – 3 USD, but they are probably not important in the beginning. It really depends on how your board is set up combined with your style of skating.
Bushings
Bushings are perhaps only for the connoisseurs of skateboarding, but the fact is that the stock bushings don't always match your expectations. Perhaps they are too soft or too hard for your style of skating. Anyhow, Good bushings cost from 6 USD and beyond.
Summing-up
We strongly advise that you steer away from the dirt cheap no-name complete skateboards. Instead, we recommend visiting your local skateboard shop, preferably in real life. This way you get the best equipment, excellent help, and advice, plus you get to know your future best friends.
A good skateboard might run in the 200 dollar range, but then again, you will have an excellent skateboard, that both eliminates danger from equipment failure, and makes your experience much better.
We hope you enjoyed our guide on how much it Cost to skateboard. Feel free to write a comment below if you have any questions or ideas. We would love to hear from you